Ok yeah I've gone crazy on the Topshop posts today but they have lots of stuff I want at the moment, but more than anything I want this.
A tribal head band, I've been wanting one for yonks and now Topshop have it with a ridculous £30 price tag. £30! Are you crazy? The headband has got to be a pound or two retail price at tescos or claire's and the feathers i can get from some crafy shop or online should sell them.
I don't really like the colour way of the beads but a trim like that for the size I need would be about £3/£4.
I could make it for like a tenner! Just need to find somewhere with good feathers, any suggestions?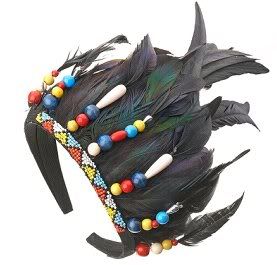 Just emailed the boyf about my plans and he thinks i'm joking, we'll see who'll be laughing when i've got my headband and bow!
If you do have £30 lying about and want this headband, give it to me instead.