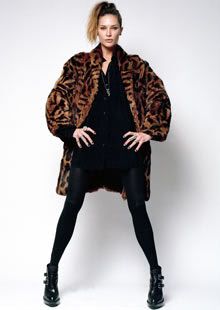 What are you wearing today?
This is a really old vintage Fendi coat that I scored at a thrift store in New York, which I love. It's 12 sizes too big so I feel like a bag lady. This top is from a collection I designed for RVCA - it's called "sweetheart of the rodeo". The shoes are from Phi; they're from next season. I emailed the designer Andreas Melbostad and said I've got to have them.
Is this your signature look?
Yes, it's slightly dishevelled. I think a lot of people know me for just wearing cut-off denim shorts, an oversized white T-shirt with a pair of high-heels. I usually do wear basic stuff. Jeans and a white T is my go-to look.
Tell me about an early fashion memory.
I always did the [Alexander] McQueen shows. One season, I was literally a horse. It took about 20 minutes to get into my outfit. I had this huge, long horse mane coming out of my head and this great big metal horse-bit in my mouth. I think I had to be cut out of that. With McQueen, you always felt like you were more than a model.
Extracts taken from
the Guardian you can find the rest of the interview here